NOT PLAYING IT SAFE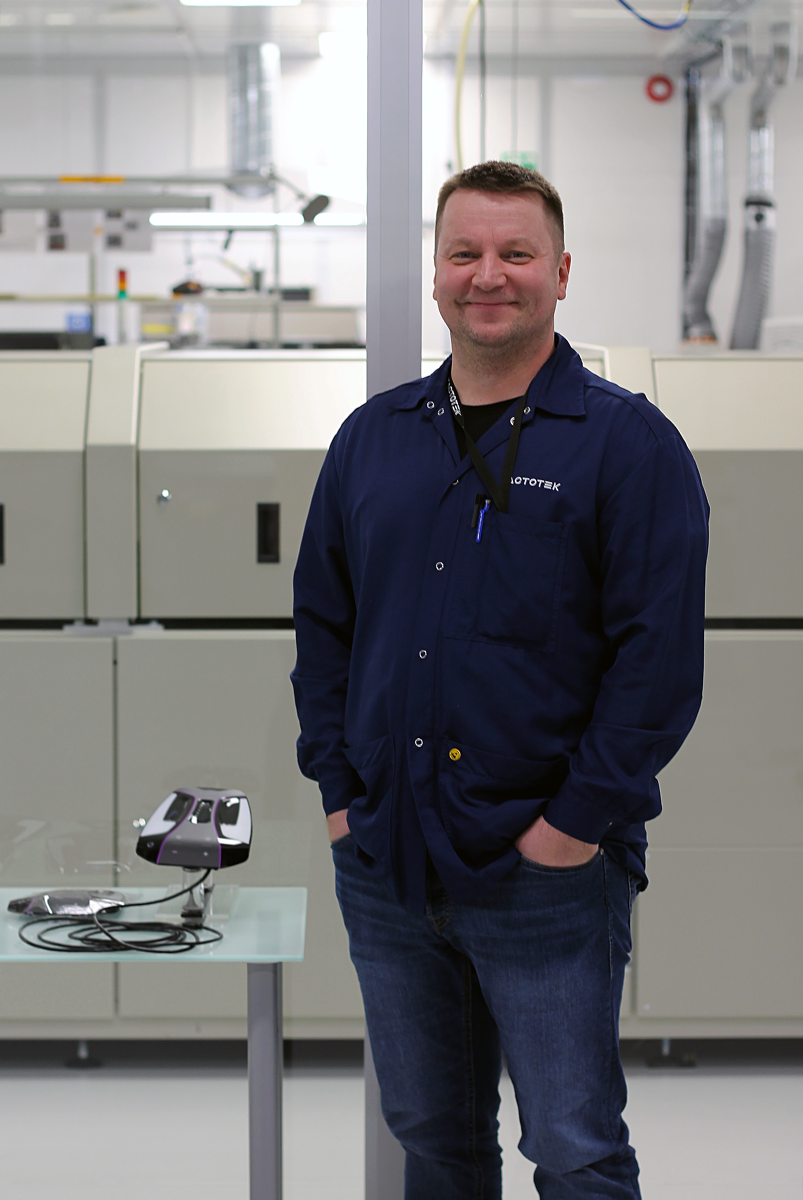 My name is Harri and this is my story of changing careers in adulthood. The thought of abandoning the familiar and safe career you've had pretty much all your life, is quite scary. From an outsider perspective you would think I'm out of my mind, but I haven't regretted a second. Before TactoTek, I worked at our family business. The business had several gas stations and a grocery store within a 100 kilometer radius from Oulu. My previous work duties have also included jobs in mailing and logistics areas. That gathers up to about twenty years of earlier work experience. I was a Business College graduate before pursuing another career in electrical engineering, which is my profession now. I felt I wanted to explore other job opportunities and a different industry.
I've always had an interest towards electronics, particularly old hi-fi devices, and information technology. Oulu is a technology city and the amount of jobs available contributed to my decision. These aspects led me to start studying "Electrical Engineering and Automation Technology" -degree in Vocational College OSAO a year ago. A few months into my studies, the school encouraged me to seek out a company called TactoTek for a training position. I literally knew nothing about such firm and even less about IMSE, if that's even possible. I went there for an interview and against all my own expectations, I got the internship! After landing a place at TactoTek, my learning path at school was personally tailored to fit my needs. The internship led to an apprenticeship and ultimately to a permanent position. I got to carry on my studies while working and ended up finishing the 3-year degree in 9 months.
I am now a Production Operator in the manufacturing floor and my tasks vary from warehouse responsibilities to assembling and testing the products. I enjoy versatile and ever-changing work duties and at TactoTek, no day is the same. I think the hectic working environment is "the salt of the job", which is a Finnish expression meaning it brings 'flavor' to your work and keeps it intriguing. The people are brilliant here, they encourage me to my best performance every day. I was immediately greeted with a warm welcome and the same atmosphere has continued. Here you don't just think about yourself, instead we all focus on the greater good and well-being of others as well.
When talking about my free time, I like to do things involving music and ice hockey. I have dipped my toes in motorsports as well. When I was younger, I played ice hockey actively and later in life I have coached junior teams as well. Nowadays my son also plays and we as parents encourage and support him with everything he aims for. Due to the cycling culture we have at work, especially my coworkers are to blame for this, nowadays I'm also into cycling and skiing. When I'm not on the move, I like to listen to old vinyls with my headphones on and seize the day.
Overall I am really satisfied here. The people are amazing, the work motivates me and I'm hopeful about my future in this company. As TactoTek is growing, they are recruiting new and inspired minds. To those who are even a tiny bit interested, I would definitely recommend TactoTek as a work place. It is an honour to be a part of developing IMSE, the technology is really fascinating, not a day goes by that I don't learn something new about it.